About the business center
Landmark architecture
Two towers of sparkling glass outspread in the sky - this magnificent view welcoming you at the threshold of Sofia is called BLU OFFICES!
This impressive state-of-the-art business complex is a true landmark combining a spectacular exterior, advanced-technology facilities and a stylish interior.
The Property's impressive two-story lobby welcomes visitors and tenants, a mobile of varied shapes, colours and movements suggesting the infinite potential of human creativity a unmatched cosy atmosphere.
With 65 meters in height and rentable area of approximately 20.000 m2 the buildings are an attractive and contemporary 16-story trophy office tower.
Bright & efficient offices
The full size glass façade and the correct layout of the offices provide plenty of natural light through the premises. Combined with the office height of 2.80 m2 this creates a feeling of convenience and freedom.
The "open space" concept offers unlimited possibilities for the internal separations and layouts, so that the space can be arranged in accordance with the exact tenant´s requirements.
National Contest "Building of the Year" 2016 - Blu Offices Sofia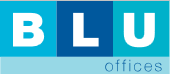 Contacts
Blu Offices Sofia
11 Brussels Blvd. Sofia, Bulgaria
Contact us: +359 899 17 17 02
Email:

This email address is being protected from spambots. You need JavaScript enabled to view it.

Website: blu-offices.com